About the author: Jim Scott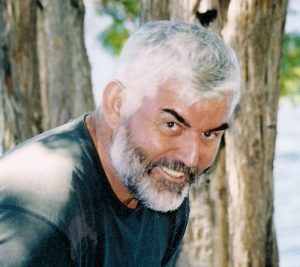 Born in England, raised on the banks of a river in the Sussex countryside, Jim, from a young age developed strong spiritual connections with the natural realm.  Not understood until much later in life this realization provided a catalyst and explanation for his unusual philosophies born from his many travelling years that didn't tie-in with much of mainstream thinking.
Working with the natural realm in a variety of occupations on sea or land developed a profound respect for the balance of how life is meant to be within the natural wisdom that governs the planet.  This respect is presented in his writing where, not shy to criticize what he considers the artificial worlds of cities, industry and reliance upon financial success, he champions  environmental causes, bucolic lifestyles and indigenous groups yet following the Old Ways of natural balance.
Having travelled to over 70 countries where many of his sojourns were significant enough for adventures to be lived and philosophies developed, his experiences among such disparate cultures, landscapes, politics and economies lend themselves perfectly to the stories and verses of his books.
A father of three, Jim now lives in Ontario, Canada, and spends as much time as possible in the British Virgin Islands where two of his children were born and where he yet feels most at home.
Fact Sheet:
Born 26/02/1953 in London, England
Moved to West Sussex at 1 year old
Worked on fishing boats from age 13
Youngest member on record of HMS Sussex division of Royal Naval Reserve at 15 and a half (rank of Junior Seaman)
Left School at 17 for deck apprenticeship in British merchant navy
Never been to university
Age 22 left  merchant navy with rank of 2nd Mate
Same time left England and never lived there since
36 consecutive years without permanent residence any where lived
Visited or lived in 70 countries and territories
3 Children (one born Canada, two born British Virgin Islands)
Sports/pastimes: ocean racing (sail), rugby (played for Gibraltar RFC), wilderness camping
 Achievements
Founding Director Virgin Islands Search and Rescue (VISAR)
Founding VP Rotary Club of Tortola II
2 Circumnavigations
Over 100,000 miles at sea
Helped found Kids and the Sea (KATS) BVI
Honoured by Lloyds of London for SAR and relief co-ordination work during/after Hurricane Hugo
Moderated All Candidates Debates at all 3 levels of Gov't in King Township, Canada
First private sector member of BVI National Emergency Advisory Council
Founded BVI Chamber of Commerce Disaster Response Committee
Hosted first public/private sector disaster preparedness conference in BVI
Wrote and taught first Nautical Studies curriculum for BVI Community College
Honoured by BVI Governor for work with VISAR