For Media Kit section pertaining to the author:   https://www.caridiangroup.com/media-kit/jim-scott/
Wanderings and Sojourns book 1, "On Five Continents and Three Oceans"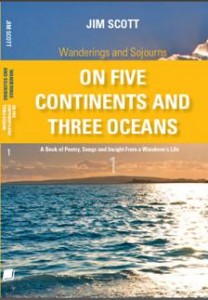 Written as the first of the "Wanderings and Sojourns" series, this book serves as an introduction to the series.  It comprises 24 true stories from around the world based upon the author's own experiences and adventures but, unlike most books of its kind, adds pause for philosophical reflection at the end of each.  Also included are many works of lyrical verse complimenting the stories, several of which are included in the much larger collection of songs and verses in book 3.
As with all the books in the series this one covers many disparate themes from a wanderer's unusual life.  Book 1 embraces African insurgent war, hiking the Peruvian Andes, meeting poverty in India, sailing the Caribbean, Moroccan hospitality, shipwreck in Portugal, Aboriginal spirituality and much more.
Available at selected book stores; on-line from Friesen Press, Amazon, Chapters, Indigo, Barnes and Noble and in Kindle, Kobo, Nook, etc.
What readers have said about the book.
"Just reading a couple stories, they're great! I even found myself laughing out loud. Good stuff!"….. England
"Each is a beautiful story.  I appreciate your trust in us readers.  Your honesty about your feelings is highly valued" ….. Canada
"I don't have enough superlatives to say anything but WOW, I love it….." …. England
Q and A:
How long did it take to write the book?
To actually sit down and put it together …. not long because most of the stories were already written in one form or another.  But to live the stories, that is to say to do the research, you could say that because the earliest is about a pre-teen experience …. it has taken me over 50 years.
How long does it take to write a poem?
Each one is different.  The one's I like best seem to write themselves and happen very quickly, as if they were waiting somewhere to be put onto paper.  But even so, a poem, like many works of written art, is never truly finished. The writer sees "tweakages" every time he reads it and has to exercise discipline not to keep making changes.  Others I start seem to be going nowhere, so I put them in an "under construction" file and sometimes, years later, I see the way forward to their completion.
From where does the inspiration come for the stories?
All from my own experiences.  They all really did happen, although for the sake of brevity and to help the reader contextualize some have been tweaked while others are an amalgam of more than one story.
When did you start writing?
When I first went deep sea as an apprentice.  I found reading and writing helped pass the non-working time productively on the long hauls between ports and that creative writing helped me stay alert during the 4 hour night-time watches  on the bridge.  After I left the merchant navy I just kept on writing and have been doing so ever since.
Will there be more books in the series and, if so, how many?
Book 3 "The Songs and Verses"  a compilation of 80 original poems and songs, is already published.  Book 2 "On Tropical Islands and Sparkling Seas", all stories about sailing and my Caribbean years, is almost ready, and I have started mapping out book 4 which will be focused on my years and travels in the Iberian Peninsula.  After that …… well, there's still many more parts of the world,  experiences and adventures about which to write, and many more yet to be lived.
Are the stories laid up in chronological order, or sectioned by theme?
No.  In keeping with the tenet of the series they are random, just as my travels were mostly random based upon whatever seemed to be a good idea at the time.  To illustrate just how unpredictable those travels were, I have never yet reached a country in which I made a long term plan to reside, and all the countries in which I have lived I never meant to do so until largely unplanned circumstances took me there.  So the books deliberately reflect the somewhat wayward course the life that inspired them has taken.
Are there more books in the pipe-line beyond this series?
There is a large environmental novel that incorporates some ancient Anishinaabe prophecies that is already written but awaiting some serious editing and re-write.  I might be blowing the dust off that one when this series is finished.  I am also looking at coffee table publications of poetry and pictures in collaboration with a couple of excellent  photographers combining some of their photos with my verses, and I have the first in a series of environmental children's books already complete just waiting for a publisher.
 Countries/Territories of which stories/poems are written (and mentioned) in the series
England
Morocco
Portugal
Gibraltar
Rhodesia/Zimbabwe
Antigua
Montserrat
St Barths
Puerto Rico
St Lucia
Bahamas
British Virgin Islands
US Virgin Islands
USA
Canada
Peru
India
(South Africa)
(Botswana)
(Mozambique)
(Martinique)
(Guadalupe)
(Dominican Republic)
Top 15 Sojourns in descending order of longevity
British Virgin Islands
Great Britain
Canada
Gibraltar
The open ocean
South Africa
Portugal
Rhodesia/Zimbabwe
Morocco
USA
Antigua
Bahamas
Martinique
India
Peru