El Mocambo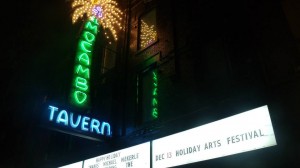 This has to be one of the (if not THE) most iconic signs in the Toronto entertainment scene.
Last night, on the stage of El Mocambo I read some of my poetry to a fair-sized audience. The event contained several excellent musicians but I was the only poet reading their work.  I felt honoured to be invited to be part of that show. I also felt a little in awe to be performing on the same stage where previously had performed so many greats, including The Stones, Elvis (Presley and Costello), Sting, U2, Muddy Waters, Rush, Leonard Cohen, Stevie-Ray Vaughan, and many, many, MANY more.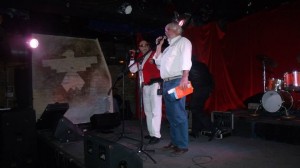 Here I'm being introduced by the emcee before my set, which must have been OK as folks came over to me afterwards to tell me how much they enjoyed the poems, some to buy a book.  Some wanted more than one and one person wanted the set of all three. Some for themselves and some thought they'd make great gifts …. 'Tiz the season after all.
While there I was invited to read at another venue in the New Year. I'll post the details once I have them.
Thanks to all those who came and liked what they heard. I'm looking forward to more of the similar during 2015.